لایسنس دائمی نرم افزار Tems Investigation 22.x
پشتیبانی مادام العمر | ضمانت کارکرد صحیح 
new version of tems investigation in 2023 now available.
TEMS™ Investigation 22.3

لايسنس نرم افزار Tems Investigation 22 با قابليت پشتيبانی از کليه ورژن های Tems 15.x تا Tems 22
قابليت ارتقا و پشتيبانی از نسخه های بالاتر آتی
قابليت پشتيبانی از کليه سرويس ها و گوشی های جديد شامل
Samsung N976Q، Samsung G930F و Sony XZ Premium G8141/G8142
پشتيبانی از کليه تستهای 2G/3G/4G/5G
پشتيبانی از سرويسهای : Volte/MOS/POLQA و Carrier Aggregation و …
جدیدترین ویژگی ها :
http://online.mytemscloud.com/TI/22.0/ReleaseNote/index.html#page/Release%2520Note%2FTEMS%2520Investigation%252022.0%2520-%2520Release%2520Note.1.05.html%23
 New Features
---
HiSilicon chipset support
Devices using the HiSilicon Balong 5000 5G modem can now be connected to and used for network testing in TEMS Investigation. The Balong 5000 provides industry-leading 5G speeds and supports both NSA and SA architecture.
TEMS Investigation can do decoding of Layer 3 and Device messages for all available radio technologies, anlongside support for around 50 NR 5G Information Elements and Events, plus basic Information Elemets on legacy technologies.
To use HiSilicon chipset based devices with TEMS Investigation, a TEMS HiSilicon Connect license must be aquired.
New NR Information Elements
A few RACH related information elements are now supported by Qualcomm based devices:
RACH Initial Tx Power
RACH Current Tx Power
RACH Number of Transmits
RACH Latency
Scanning Improvements
A number of valuable improvements has been done for NR scanning. This includes new scanning types, new information elements and new supported bands.
New Scanning Types
NR Signal Scan with L3 Support for Rodhe & Schwarz TSME6
NR Enhanced Power Scan for PCTEL HBflex, IBflex and MXflex
NR Spectrum Scan for Rodhe & Schwarz TSME6
NR Automatic Channel Detection for Rodhe & Schwarz TSME6
NR Blind Scan for PCTEL HBflex, IBflex and Mxflex
New Scanning Information Elements
P-SS RSRP, RSRQ and CINR
Scanned Best Beam, CI, SSS CINR, SSS RP and SSS RQ
Other Scanning Improvements
Added support for NR Bands 80, 81, 82, 83, 84 and 86 for PCTEL scanners
Added support for NR Sub-6GHz Bands n14, n18, n29, n30, n48
Added support for up to 64 beams on mmWave for PCTEL scanners
Added support for 40 ms SSB periodicity for PCTEL scanners
Important Information
Disabling Wi-Fi for Mobile Network Testing
Before using a device for mobile network data service testing, be sure to turn off Wi-Fi on the device. If Wi-Fi is enabled, the device may run data transfers over Wi-Fi rather than over the mobile network it is camping on (even if a correct APN has been entered).
Keeping Down Logfile Size When Running Data Services on Qualcomm and Samsung Chipset Based Devices
This section applies to Qualcomm chipset-based and Samsung chipset-based devices, unless otherwise stated.
It is strongly recommended to follow these steps, since otherwise the PC processing load will become excessive.
When testing data services only, use a Log Configuration activity with the option "Optimized for Data KPI Reports" selected.
For Qualcomm chipset devices, you can alternatively either disable the DPL log (0x11EB) or set USB mode to RNDIS+DM+MODEM. Be aware that in RNDIS+DM+MODEM mode it is not possible to apply certain control functions such as RAT and band lock. In TEMS™ Investigation the DPL log is by default turned off in RNDIS+DM+MODEM mode.
When testing both VoLTE and data services concurrently, use a Log Configuration script activity with the option "Optimized for Voice/Data KPI Reports" selected.
قابليت پشتيبانی از Tems Discovery Device 22 و قابليت ارتقا به آخرين نسخه
Tems investigation 21.x
 TEMS 21 & 20 & 19 & 18 &17 with licenses LOCK PC & LAPTOP
Full functions :Support 2G / 3G / 4G / volte / CA .Mimo 4*4 / Maps / logs Import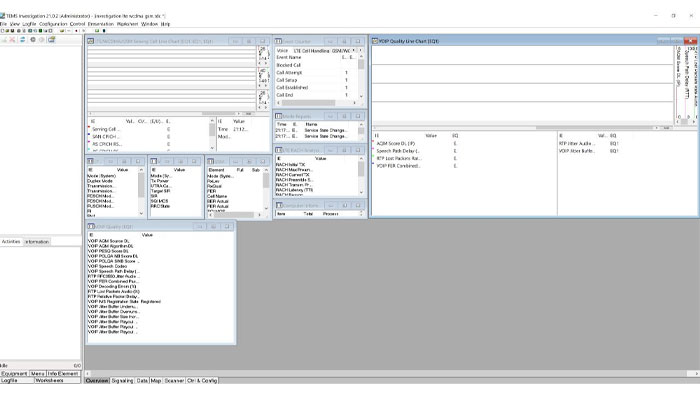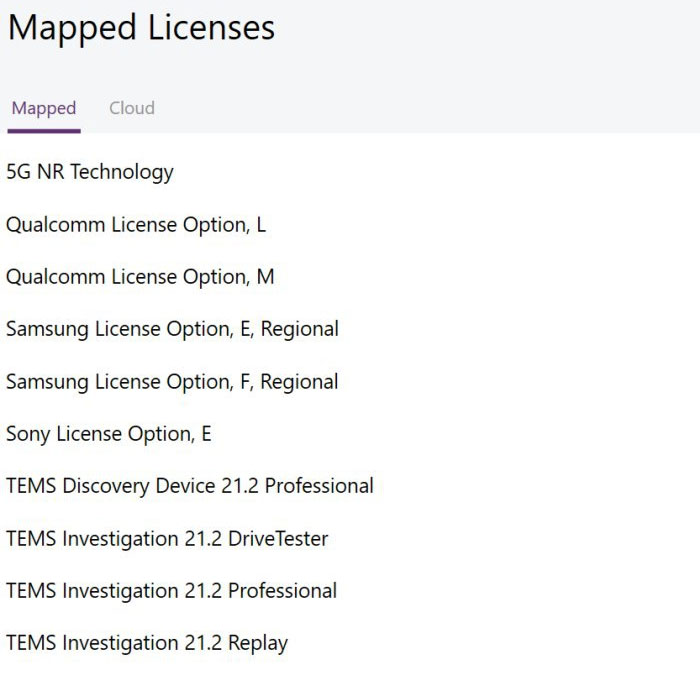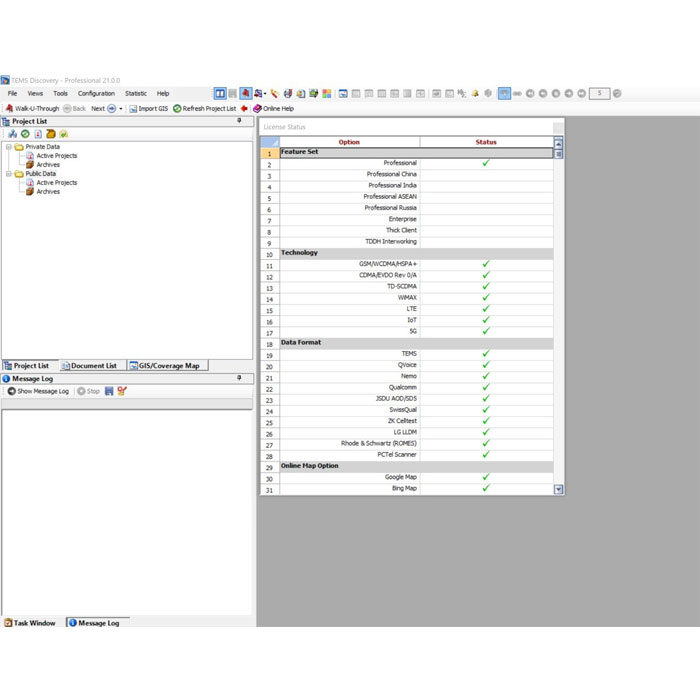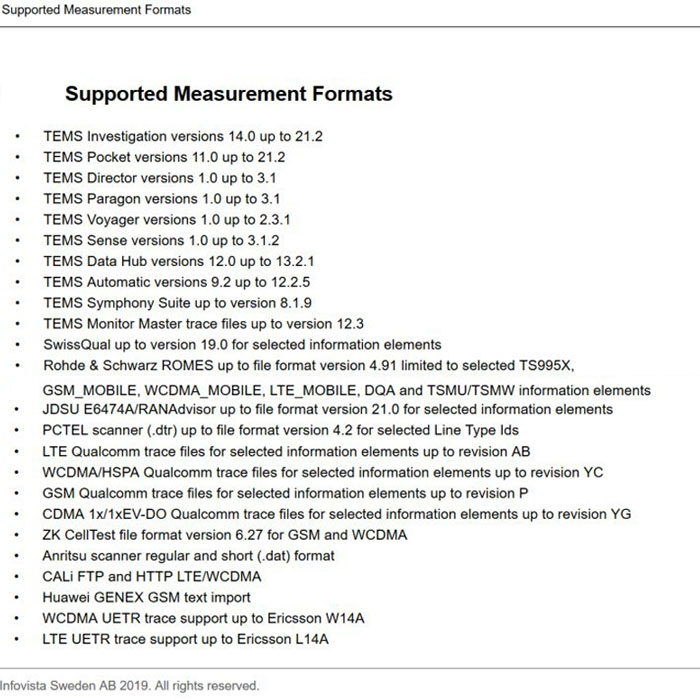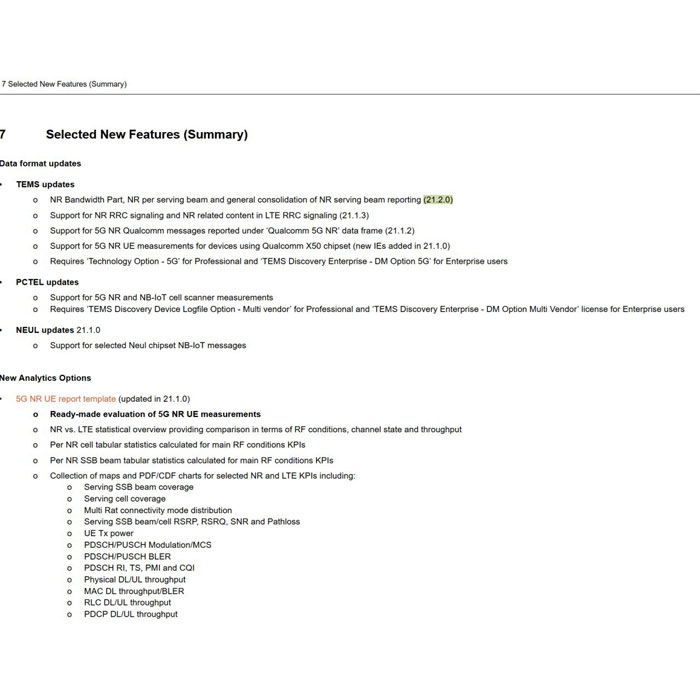 Key Benefits
5G Support
Through close cooperation with chipset manufacturers and scanner vendors, we have been leading the way to 5G. We provided early support for LTE-A, IOT, VOLTE and VILTE, and are now able to verify 5G radio.
Leverage a complete solution with Planet, Geodata and TEMS
Only Infovista, offers you a complete turnkey solution – RF software, geodata and network testing – to cover your entire network planning project. Our broad vision means we support you throughout the process from design and execution to testing and optimization.
Improve your subscriber QoE to gain a competitive edge
When you want to enhance your subscriber QoE, the best way to test your network is to assess how subscribers actually experience your network. TEMS Investigation performs on-mobile service and application testing coupled with layer 1-3 data collection to provide you with the genuine insights you need to boost your network.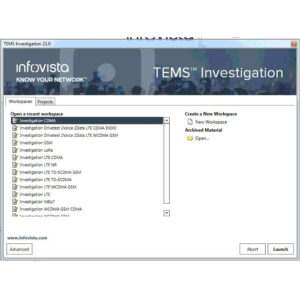 Accelerate new technology roll-out
Early availability of new mobile devices, services, and application tests enables you to examine your network evolutions quickly and reliably. For over 25 years, TEMS Investigation has set the standard in mobile network testing software.
Reduce network testing cost
Field work is expensive. Test scripts development is tedious. While TEMS Investigation offers all the in-depth testing capabilities engineers love and need, in reality many of these tests are identical. Integrated with TEMS Director, you can optimize the efficiency of the field work, reuse network tests, and maximize the value in your TEMS investment.
Implement an end-to-end testing platform
Mobile networks might be complex, but testing them doesn't have to be. With a complete test platform centered around TEMS Director, our global test management platform, you can implement a cohesive strategy that covers all your needs for mobile network testing software.
مرجع : https://www.infovista.com/tems/investigation