لایسنس دائمی نرم افزار Tems Investigation 21 | پشتیبانی مادام العمر | ضمانت کارکرد صحیح 
لايسنس نرم افزار Tems Investigation 21.x با قابليت پشتيبانی از کليه ورژن های Tems 15.x تا Tems 21.x
قابليت ارتقا و پشتيبانی از نسخه های بالاتر آتی
قابليت پشتيبانی از کليه سرويس ها و گوشی های جديد شامل
Samsung N976Q، Samsung G930F و Sony XZ Premium G8141/G8142
پشتيبانی از کليه تستهای 2G/3G/4G/5G
پشتيبانی از سرويسهای : Volte/MOS/POLQA و Carrier Aggregation و …
قابليت پشتيبانی از Tems Discovery Device 21,x و قابليت ارتقا به آخرين نسخه
Tems investigation 21.x
 TEMS 21 & 20 & 19 & 18 &17 with licenses LOCK PC & LAPTOP
Full functions :Support 2G / 3G / 4G / volte / CA .Mimo 4*4 / Maps / logs Import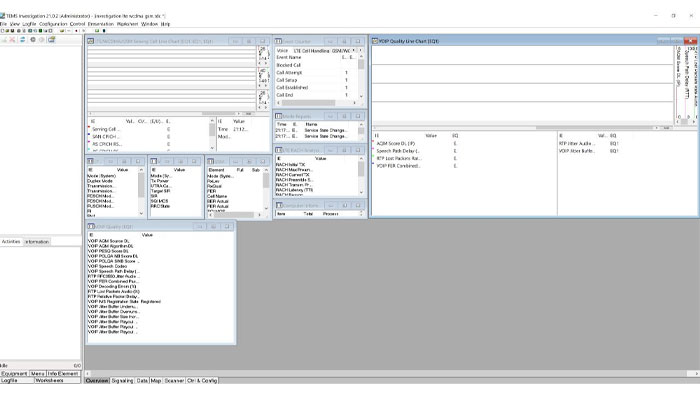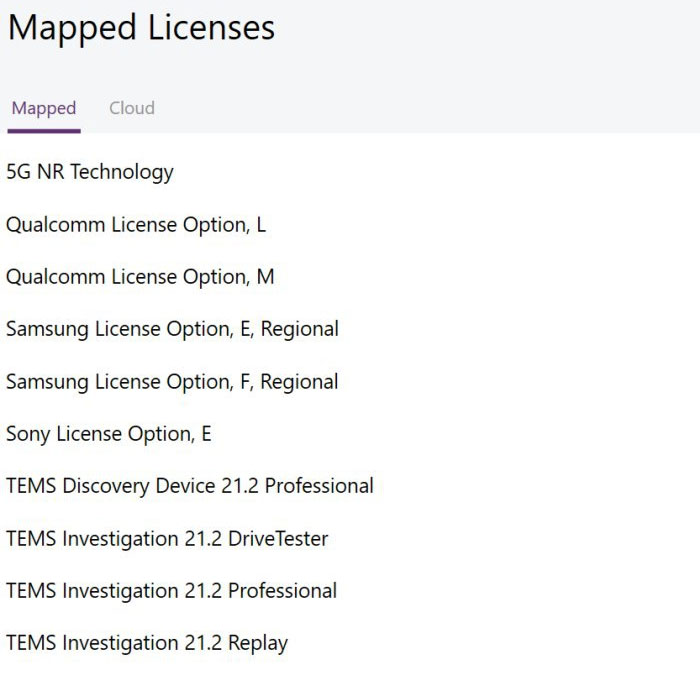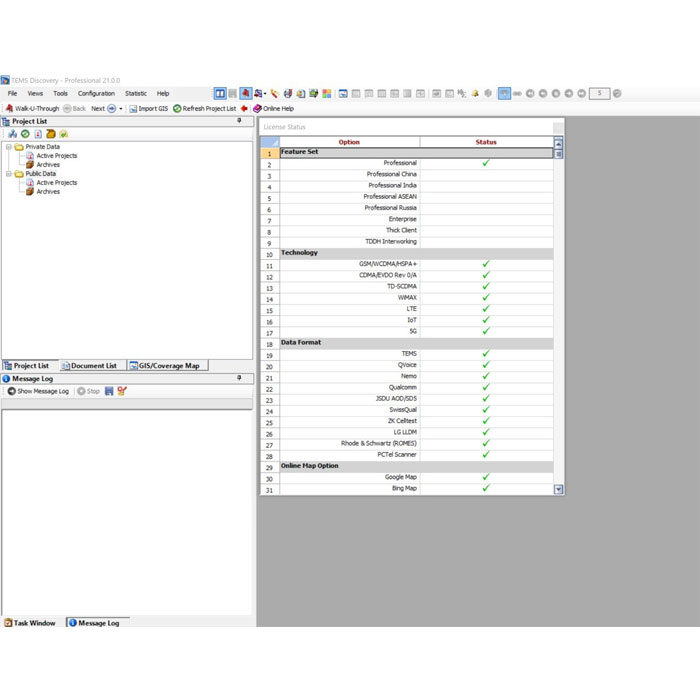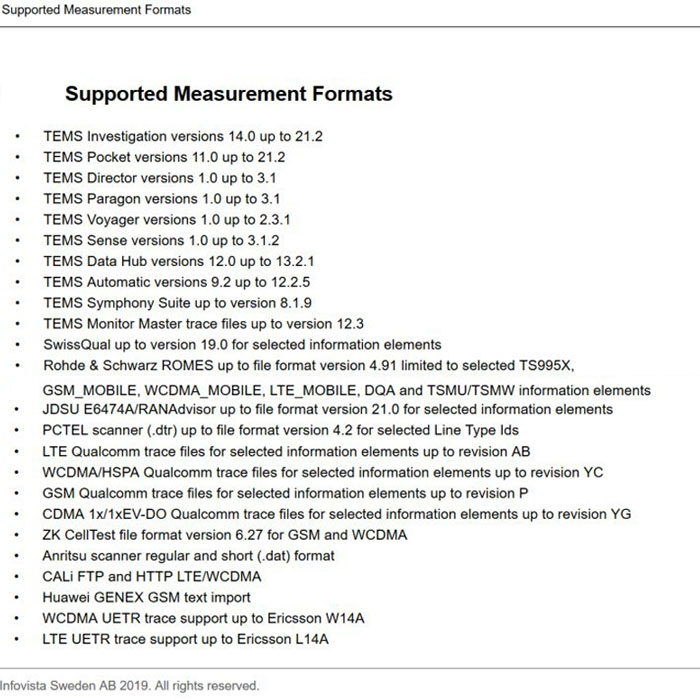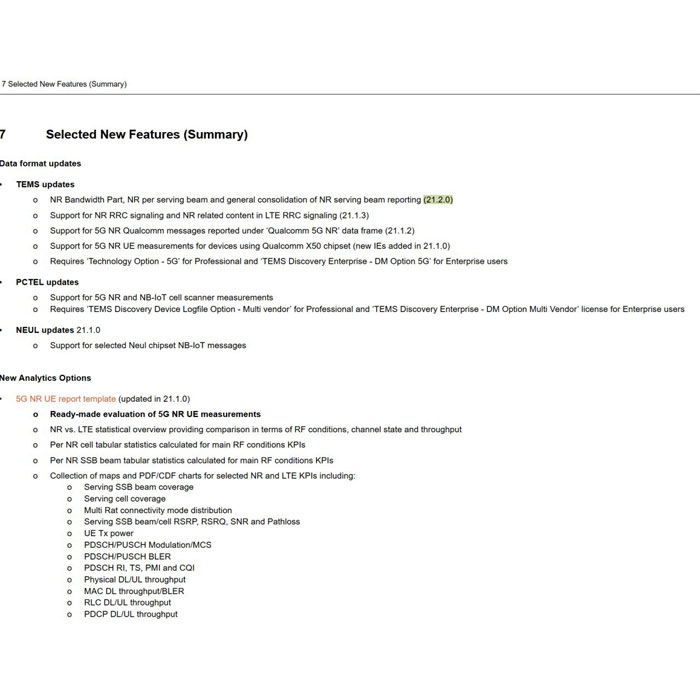 Key Benefits
5G Support
Through close cooperation with chipset manufacturers and scanner vendors, we have been leading the way to 5G. We provided early support for LTE-A, IOT, VOLTE and VILTE, and are now able to verify 5G radio.
Leverage a complete solution with Planet, Geodata and TEMS
Only Infovista, offers you a complete turnkey solution – RF software, geodata and network testing – to cover your entire network planning project. Our broad vision means we support you throughout the process from design and execution to testing and optimization.
Improve your subscriber QoE to gain a competitive edge
When you want to enhance your subscriber QoE, the best way to test your network is to assess how subscribers actually experience your network. TEMS Investigation performs on-mobile service and application testing coupled with layer 1-3 data collection to provide you with the genuine insights you need to boost your network.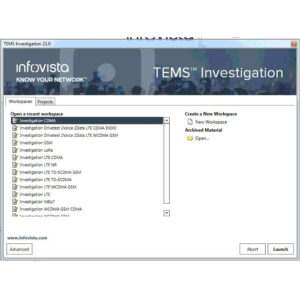 Accelerate new technology roll-out
Early availability of new mobile devices, services, and application tests enables you to examine your network evolutions quickly and reliably. For over 25 years, TEMS Investigation has set the standard in mobile network testing software.
Reduce network testing cost
Field work is expensive. Test scripts development is tedious. While TEMS Investigation offers all the in-depth testing capabilities engineers love and need, in reality many of these tests are identical. Integrated with TEMS Director, you can optimize the efficiency of the field work, reuse network tests, and maximize the value in your TEMS investment.
Implement an end-to-end testing platform
Mobile networks might be complex, but testing them doesn't have to be. With a complete test platform centered around TEMS Director, our global test management platform, you can implement a cohesive strategy that covers all your needs for mobile network testing software.
مرجع : https://www.infovista.com/tems/investigation
Tems Investigation 21.2.3 is an active, end-to-end testing solution, used to verify, optimize and troubleshoot Heterogeneous RAN services. It enables mobile operators and infrastructure suppliers to test quality, from the perspective of subscribers (QoE) and from the perspective of the network (QoS), covering in- vehicle, in-building and pedestrian test scenarios.
Combining speed with simplicity, TEMS Investigation 21.2.3 helps you get to market fast with a solution backed by latest technology innovation, while offering unmatched ease of operation. TEMS Investigation is proven to meet emerging needs during pre and post-launch stage of network technology developments. It is a single solution that reduces OPEX by helping to streamline processes and by keeping pace with rapid network evolution.
Tems Investigation 21.2.3 features:
Extensive Device Portfolio
With more than 300 verified measurement devices from over 30 vendors, TEMS Investigation offers unparalleled flexibility for customized solutions. It supports Android, iOS, and Windows Mobile smartphones, with new devices from all major manufacturers being added continuously.
Multi-Technology
Close cooperation with device and infrastructure vendors enable short lead times when introducing new technologies, chipsets, and devices. Our products support LTE (FDD/TDD), LTE-A, LTE-U, UMTS, WiFi, TD-SCDMA, and CDMA and continues to pave the way for testing of new technologies including VoLTE, VoWiFi, NB-IoT, LTE-M, and, in time, 5G.
Powerful and Efficient Data Collection
Strong, intuitive service control, auto device detection, advanced device control, auto file upload, and flexible recording capabilities to manage and automate information gathering and present real-time data. Multiple devices can be connected and run simultaneously, minimizing the time spent collecting RF data, L2/L3 messages, IP information and service-related information.
Exclusive Measurement and Control Capabilities
TEMS Investigation incorporates an ever increasing set of unique and advanced control functionality. In addition to control RAT, Band, and Cell, it is possible to control for instance LTE Category, Carrier Aggregation, and Vocoder, all of which are crucial for advanced LTE-A and VoLTE testing.
Service Performance Testing
TEMS Investigation can test and verify the performance of current and next generation services. The tests are carried out by using the phone's own client in combination with advanced algorithms such as POLQA, PEVQ, and PEVQ-S. This ensures a better understanding of the end-user experience and how networks are affected by services like Skype, Facebook, Twitter, Instagram, Netflix, etc.
Powerful Script Creation
The intuitive flow chart concept for efficient and advanced script creation ensures consistent measurements and have support for the newest technology enhancements in IoT networks (LoRa, LTE NB and LTE M). This opens the door for testing and benchmarking of cost efficient IoT implementations with focus on indoor coverage, low cost, long battery life and a large number of connected devices.
Convenient Indoor Measurements
Creation and use of pre-planned indoor test routes facilitate efficient work processes from preparation through execution and analysis; manual pinpointing is available as well. Building and floor plan data can be imported from planning tools. Complementary use with TEMS Pocket and TEMS Discovery helps streamline measurement processes. Our backpack and tablet PC solutions provide additional portability.
Flexible Analysis Capabilities
Thousands of information elements and events can be presented in more than 250 predefined presentation windows (line and bar charts, maps, status and message windows, event counters) to locate network problem areas. All presentation windows are synchronized, and all settings are saved in workspaces for reuse and sharing between users.
TEMS Portfolio Synergies
You can use TEMS Investigation to analyze logfiles from other TEMS products, or add TEMS Pocket functionality on your TEMS Investigation handset. TEMS Discovery, a highly configurable and user-friendly post-processing solution, is recommended for use when large amounts of data are to be processed and analyzed, as well as for advanced report creation.